MassMetaSite is an established approach for the automatic identification of metabolites for small molecule and peptides using Liquid Chromatography – Mass Spectrometry, UV, fluorescence, and radio-chromatogram data, reducing manual analysis from several hours to only a few minutes per compound. The program can assign chemical structures to each automatically detected chromatographic peak based on the MS and MS/MS fragmentation pattern of the substrates and metabolites.
It can process from multiple vendors: Agilent, Bruker, Sciex, Thermo and Waters, and it is also able to analyze data from different acquisition modes: DDA, DDA, MSE, HDMSE, AIF, AF, Broad band, SWATH, Sonar, etc.

In the cases where the data cannot be used to propose a single structure for the chromatographic peaks found, the system also introduces the Site of Metabolism (SoM) prediction from MetaSite computation (the leader in the metabolism prediction market), that ranks the multiple structural options. Moreover, the user has access to the visual analysis of the enzyme-metabolite interaction CYPs, FMO and AOX proteins, and it can even propose structural modification to overcome the metabolic liability.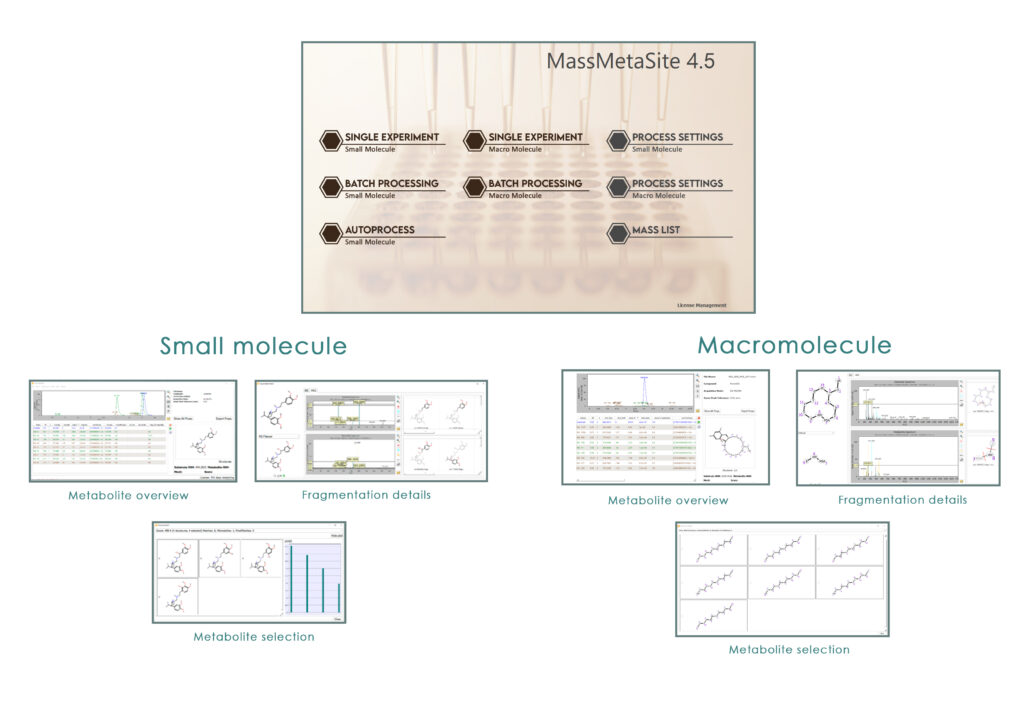 Automatic peak detection

 

Structure elucidation

 

Comparison with parent

 

Metabolite specific fragmentation

 

Batch processor:

 

Auto-processing of experiment files

 

Multiple process batches

 

New tool to create WebMetabase Protocol Instances/Batches on sample list import time

 

Setting/mode to process data for calibration curves

 

Exporting to excel report

 

Markush handling depiction

 

Modes of operation:

 

Standard

 

GSH: Neutral lost and fragment ions

 

Cyanide

 

Peptide (up to 4500 amu)

 

Signal process:

 

Mass Spectrometry, UV, Fluorescence and Radio files

 

Direct connection to design tools:

 

MetaDesign module available, 32D, MetaSite, Metabolite generation, Automatic validation

 

Isotope labeling:

 

Stable GSH and cyanide isotope labeling

 

Radio isotope labeling

 

Enhanced peak quality analysis:

 

Area compared to the Blank

 

Area compared to the Substrate

 

Isotope similarity score

 

Improved connection to UNIFI

 
Automatic peak detection
Structure elucidation

Comparison with parent
Metabolite specific fragmentation

Batch processor:

Multiple process batches
Tool to create WebMetabase Protocol Instances/Batches on sample list import time

Visualization in monomers and/or atomic notation
Signal process:

Mass Spectrometry, UV, Fluorescence and Radio files

Isotope labeling:
Enhanced peak quality analysis:

Area compared to the Blank
Area compared to the Substrate
Isotope similarity score

Improved connection to UNIFI
Articles:
Posters:
Videos:
Articles:
Articles:
Posters:
Videos:
Posters: